Wuthering Heights (1939) is director William Wyler's somber tale of doomed and tragic love, conflicting passions, and revenge. It is considered one of Hollywood's all-time most romantic/drama classics. Filmed with haunting beauty, it is the first film dramatization of Emily Bronte's wildly passionate 1847 best-selling literary masterpiece, from a screenplay written by Ben Hecht and Charles MacArthur (concentrating on the first two-thirds or 17 chapters of the 34 chapter book).
CAST:
Merle Oberon (Catherine Earnshaw);
Laurence Olivier (Heathcliff);
David Niven (Edgar Linton);
Flora Robson (Ellen Dean);
Donald Crisp (Dr. Kenneth);
Hugh Williams (Hindley Earnshaw);
Geraldine Fitzgerald (Isabella Linton);
Leo G. Carroll (Joseph);
Cecil Humphreys (Judge Linton);
Miles Mander (Mr. Lockwood); Romaine Callender (Robert);
Cecil Kellaway (Mr. Earnshaw);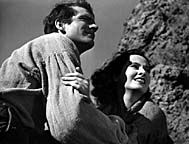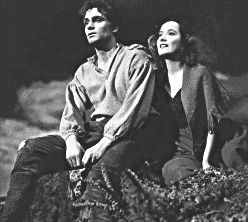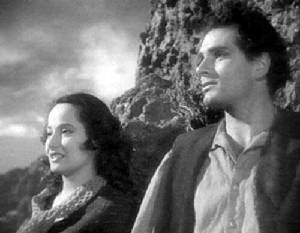 Cathy & Heathcliff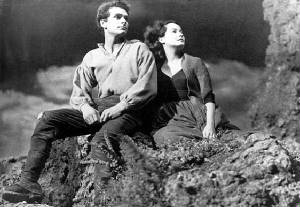 CREDITS: Director: William Wyler; Producer: Samuel Goldwyn; Screenwriters: Ben Hecht and Charles MacArthur; Based on the novel by Emily Bronte; Cinematographer: Gregg Toland; Editor: Daniel Mandell; Art Director: James Basevi; Set Decorator. Julie Heron; Costumes. Omar Kiam; Musical Direclor: Alfred Newman; Special Character Makeup: Blagoe Stephanoff; Running Time: 104 minutes.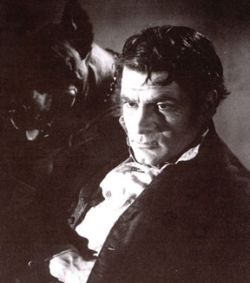 Producer Samuel Goldwyn felt the black-and-white film was the favorite of all his productions. It is still considered the definitive version - and one of the greatest romantic films ever made. Bronte's novel tells about the eternal, smoldering love between two soul-mates: adopted gypsy boy Heathcliff and manor-born Cathy, who loves both the stable-boy and her worldly neighbor Edgar. There were numerous other versions of the film, including: a silent version in 1920, director Luis Bunuel's Spanish-language version Abismos de Pasion (Depths of Passion) (1953), Robert Fuest's American International and UK version Wuthering Heights (1970) with Timothy Dalton and Anna Calder-Marshall in the lead roles, French director Jacques Rivette's Hurlevent (1985), Peter Kosminsky's faithfully-told Wuthering Heights (1992) with Juliette Binoche and Ralph Fiennes, and a made-for-TV feature Wuthering Heights (1998) as part of the Masterpiece Theatre series.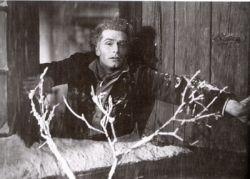 THE FILM

When, back on the London stage, Olivier received Samuel Goldwyn's offer to play Heathcliff in Wuthering Heights, he consulted his acting colleague Ralph Richardson, who replied cryptically: "Yes, dear boy. Bit of fame. Good."

Goldwyn's earlier plan was to team Olivier romantically with his Divorce of Lady X costar Merle Oberon as Cathy--and the actor's offscreen inamorata Vivien Leigh in the secondary part of Isabella. Olivier knew Vivien would have made a perfect Cathy, while doubting Merle's emotional qualifications for the role. Leigh refused to accept a supporting part in Wuthering Heights, reportedly scoffing at William Wyler's protestation that she'd never get as good a first role in America!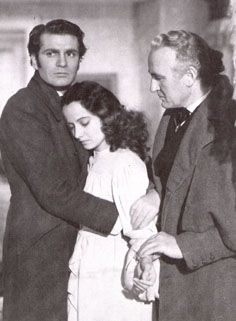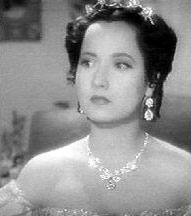 Emily Bronte's melodramatic tale of tragic love, jealousy and revenge was first published in 1837 under the nom de plume of Ellis Bell, to hide the fact that the author was a woman. It was her only novel, this wildly imaginative story of conflicting passions on the wild and stormy moors of her native
Yorkshire
. Its focus is on the moody and unrefined gypsy youth known only as "Heathcliff" who, through his unfulfilled love for the well-born and self-centered Cathy Earnshaw, is driven to extremes of vindictiveness, ending in either death or tragedy for everyone involved.
A number of other versions of Bronte's book have reached the screen -- a 1920 silent British adaptation with Milton Rosmer and Colette Brettel; Luis Bunuel's 1953 Mexican translation, Abismos de Pasion, with Jorge Mistral and Irasema Dilian; a 1970 British remake, realistically filmed in Yorkshire with Tirnothy Dalton and Anna Calder-Marshall; a French adaptation in 1985, and a Japanese one three years later. (At this writing, a new British remake is in production for 1992 release.) But the only lasting classic has proved to be Goldwyn's haunting, California-made, 1939 production, sensitively directed by the demanding William Wyler and artfully photographed in black-and-white by Gregg Toland. Ben Hecht and Charles MacArthur confined their simplified adaptation of Bronte's complex plot to only the novel's initial half, while retaining much of its original dialogue.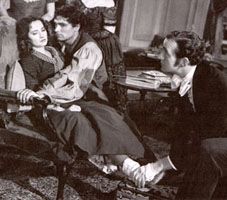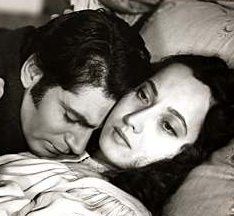 In a vintage year for Hollywood movies, Wuthering Heights held its own among intense competition, even surpassing Gone With the Wind to win the New York Film Critics' Award as 1939's Best Picture. And though it only took home one Academy Award--for Toland's atmospheric photography--there were Oscar nominations for Best Picture, Screenplay, Director Wyler, Supporting Actress Geraldine Fitzgerald (in the role Vivien Leigh rejected), Alfred Newman's score--and, in the first of his Best Actor nominations Laurence Olivier (who had been cast only after fellow British actor Robert Newton had tested unsuccessfully).
Although generally popular with both critics and audiences, Wuthering Heights was not a financial success until after its eventual reissue. Nevertheless, it remained Goldwyn's favorite among all of his own productions.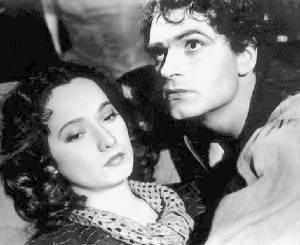 COMMENTS OLIVIER:

"If any film actor is having trouble with his career, can't master the medium and, anyway, wonders whether it's worth it, let him pray to meet a man like William Wyler. Wyler was a marvelous sneerer, debunker; and he brought me down. I knew nothing of film acting or that I had to learn its technique; it took a long time and several unhandsome degrees of the torture of his sarcasm before I realized it. "
CRITICS CIRCLE

It is Goldwyn at his best and, better still, Emily Bronte at hers. Out of her strange tale of a tortured romance, Mr. Goidwyn and his troupe have fashioned a strong and somber film, poetically written as the novel not always was, sinister and wild as it was meant to be, far more compact dramatically than Miss Bronte had made it. And it has been brilliantly played. Laurence Olivier's Heathcliff is the man. He has Heathcliff's broad lowering brow, his scowl, the churlishness, the wild tenderness, the bearing, speech and manner of the demon-possessed.
Merle Oberon has matched the brilliance of his characterization with hers. William Wyler has directed it magnificently. It is, unquestionably, one of the most distinguished pictures of the year." -- Frank Nugent in The New York Times.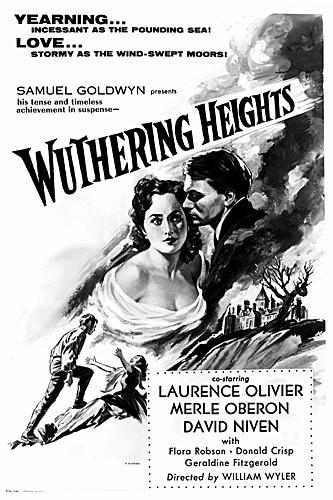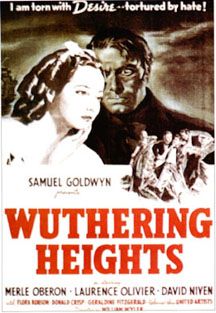 The 1939 film was a critical success, earning eight Academy Award nominations in one of the most hotly-contested years ever - often called "the greatest year in motion picture history."
The nominations included:
Best Picture,
Best Actor (Laurence Olivier with his first career nomination),
Best Supporting Actress (Geraldine Fitzgerald with her sole career nomination),
Best Director William Wyler,
Best Cinematography,
Best Screenplay Ben Hecht & Charles MacArthur,
Best Interior Decoration James Basevi,
Best Original Score Alfred Newman.
It rightly deserved its sole Academy Award for Gregg Toland's expressionistic, moody B/W cinematography.
Country of Origin: U.S.
Genre: Romance
Color of B/W: Black/White
Production: Goldwyn
Picture from The Complete Films of Laurence Olivier,
Text: Merle Oberon -- from OLIVIER - Ed. Logan Gourlay