Emily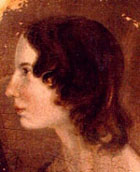 Emily
The lives of the Brontė sisters has been the subject of public interest and speculation since the sad early deaths of Emily and Anne shortly after their brother Branwell This was only heightened by third literary sister Charlotte's comments in the years that followed and the spate of biographies analysing them that appear to this day. The progress of their legend reflects the change in attitude towards literary biography in the years that have followed: from cautious, slightly reverential and respectful discussion through scandalised revelations, towards feminist revisionism and new interpretations even nearly one and a half centuries after their deaths. Through this process, the respect given to the different sisters and their works has altered dramatically, and notably Emily and her single novel, Wuthering Heights are given the most adulation now, where once Charlotte was seen as the most talented of the sisters. Their works were published initially under the names Ellis (Emily), Currer (Charlotte) and Acton (Anne) Bell, due to the fact that it was considered unseemly at the time for women to write and publish books. The interest in their real identities and the possibility that they were in fact all one and the same woman was initially used as a publicity tool to their great chagrin.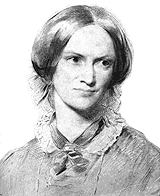 Charlotte
Charlotte was the eldest of the three literary Brontė sisters and lived the longest. The daughter of the poor Irish curate of Haworth, Yorkshire, Patrick Brunty (who had changed his name at Cambridge), she was the third of five daughters. Her mother died in 1821 leaving her children in the care of their aunt. Charlotte's two elder sisters died only four years later. Four of the sisters were educated at the Clergy Daughters' School at Cowan Bridge - perhaps an unsurprising measure from a kind but distant father who went so far as to eat his meals separately in his study. After the elder sisters' death, the remaining sisters were educated at home. At the rectory, like her two younger sisters, Charlotte would have little to do but read and write and occasionally walk on the moors. As such, it is less shocking that as a child in her early teens she wrote at least 23 complete "novels" (they were of little or no real value). The loneliness experienced by Charlotte was clearly acute. With her brother Branwell, Charlotte invented the imaginary and magic kingdom of Angria. She attended Roe Head school between 1831 and 1832, and then taught at the same school later in the decade. From 1839 to 1842 she acted as governess, then went to Brussels with Emily for language training at the Pensionnat Heger but returned later in the year after her aunt's death.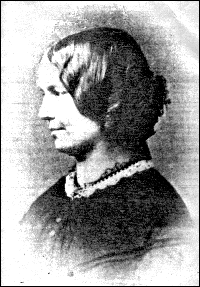 Charlotte
Meanwhile, Emily and Anne had created the fictional land of Gondal, the setting for many of their poems. Like Charlotte, Emily attended Roe Head (in 1835) but returned to the rectory due to homesickness. Subsequently, like her elder sister she became a governess and then left for Brussels to study French, German and music, similarly returning at the end of 1842. She seems to have been the most introspective of the sisters, having very few friends. Nevertheless, she was a tough and stoical woman, subduing a fierce dog with her bare hands and rising from her bed to dress just hours before her death from consumption (tuberculosis).
Anne
Anne, the youngest sister was also educated mostly at home, although she joined Charlotte (by then a teacher) at Roe Head in 1837-8. She too became a governess, actually for some time longer than her elder sisters. This employment including a five-year spell at Thorp Green Hall where her brother Branwell became a tutor (he was justly fired for having relations with his employer's wife, having already lost his job on the railway for culpable negligence). Anne found material for Agnes Grey (1847) in the spoilt children of her employers.
In 1845, Charlotte claims that she 'discovered' Emily's poems, and thus the self-published Poems by Currer, Ellis, and Acton Bell (1846) appeared to spectacularly little success. However, the three sisters had now each written a novel, and the younger two found publishers with Thomas Newby in 1847. Emily produced Wuthering Heights, Anne Agnes Grey (both 1848). Both were criticised by the press, Emily's novel especially for its supposedly morbid outlook and inappropriate subject matter. Nevertheless, history and particularly the great success of the novels have vindicated them. Charlotte's The Professor was not published during her lifetime but has subsequently reached classic status, but she wrote Jane Eyre at this time and it was accepted by Smith, Elder who published it in 1847. Anne published her second novel, The Tenant of Wildfell Hall in 1848, now using Branwell's erratic behaviour as the model for the character Arthur Huntingdon.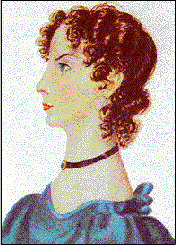 Anne
The three sisters' successes were blighted by their brother's death in September 1848. Emily followed, dying in December of that same year; with Anne following less than a year later. Naturally, various conspiracy theories have emerged, none of them terribly convincing or tasteful. Charlotte continued to write during this period (suggesting once again that writing itself had become her only therapy and release) and produced Shirley (1849). Her friendship with Mrs Gaskell from 1850 onwards seems to have lessened the lonely extremes of her life. She was also a friend of William Makepeace Thackeray. Gaskell wrote the first biography of the sisters in 1857 (although certain sections had to be withdrawn for their "libellous" content). In 1850, Charlotte re-published Wuthering Heights and Agnes Grey with her famous 'A Biographical Notice of Ellis and Acton Bell' (in which she explained the morbidity of Emily's work by referring to the "horror of great darkness" in her life) and certain unpublished poems. Her final novel Villette, based on the Brussels experience appeared in 1853, while a fragment ("Emma") appeared posthumously. Her marriage in 1854 to A. B. Nicholls was followed only months later by her death from tuberculosis.